Pray for our new partner in missions, Life Equip Global! Life Equip Global trains Christian leaders all over the world to meet families experiencing crisis pregnancies. Families are ministered to with education on pregnancy and health, and best of all, the transforming power of the gospel! Meet Raul Reyes in the Life Center between services, grab a prayer card, and sign up to receive updates. Thank you for being a part of their ministry!
CHILDREN'S CHRISTMAS PROGRAM
Join us on Wednesday, December 8th at 6:30pm in the Sanctuary for our Children's Christmas program "Heaven's Unexpected Gift."
CHRISTMAS TEACHINGS & HOLIDAY SCHEDULE
Saturday December 4 at 6pm & Sunday, December 5 at 8am, 10am, & 12pm – "Christmas Dream" (Matthew 1:18-25)
Saturday, December 11 at 6pm & Sunday, December 12 at 8am, 10am, & 12pm – "Christmas Miracle" (Matthew 1:1-17)
Saturday, December 18 at 6pm & Sunday, December 19 at 8am, 10am & 12pm – "Christmas Child" (Luke 2:25-35)

CHRISTMAS EVE SERVICES
Friday, December 24 – (Christmas Eve Family Candlelight Services) at 1pm, 2:30pm & 4pm "Christmas Glory" (Luke 2:3-20) NO CHILDCARE.

CHRISTMAS DAY
We will not have a service on Saturday, December 25 - Christmas day, but plan to join us on Sunday, December 26 at 8am, 10am, & 12pm – Special Guest Musician Rodrigo Rodriguez.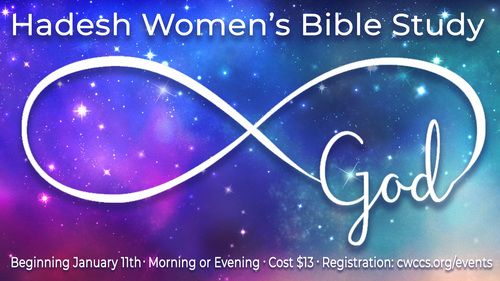 HADESH WOMEN'S BIBLE STUDY
Our Hadesh Women's Bible study is January 11 – March 1, 2022. The title of the study is Infinite God…a study of His character. Sign up for Tuesday morning 9:30am – 12pm or Tuesday evening6:30pm – 8:30pm. Cost is $13. Childcare is provided.
DISCOVER CLASS
Come discover how you can get connected here at Calvary Worship Center. Learn more about the church, Bible studies and volunteer opportunities. Our next class is on Sunday, December 12 at 1:45pm in the Middle School room.
Click here
to learn more.
HIGH SCHOOL/YOUTH
We are launching our High School ministry, Lo-Fi, to meet on Thursday nights beginning January 13th, 2022. If you are in high school or a parent of a high schooler & interested in getting plugged into Lo-Fi, email AJ at
[email protected]
FOOD PANTRY (Storehouse)
Help replenish our Food Pantry.
Click here
or stop by the Life Center for a detailed list of items that we are low on. Donations may be dropped off in the designated bin in the foyer.
CARE MINISTRY/BUS TRANSPORTATION
For Widows or Elderly body members of CWC, we are accepting inquiries regarding the need for Church Bus transportation on Sundays. Forward your 'inquiries' to Pastor Neil at
[email protected]
[Each request will be determined by certain criteria.]
CWC MERCHANDISE STORE
Click here
to check out our CWC merchandise store at cwccs.org or stop by Pneuma Coffee House today! We have t-shirts, books, and music.

THINK ON THESE THINGS
Thank God for the "gift" of Christmas! The Apostle Paul declared in 2 Corinthians 9:15, "Thanks be to God for His indescribable gift!" Literally, "unsearchable gift" – that which cannot be expounded upon! The vast, immeasurable gift of God's Son is a refreshing thought, at this time or anytime of the year!! (Romans 6:23) For the wages of sin is death, but the gift of God is eternal life in Christ Jesus our Lord.
Merry Christmas and a blessed New Year to all!
-Pastor Al and Norma